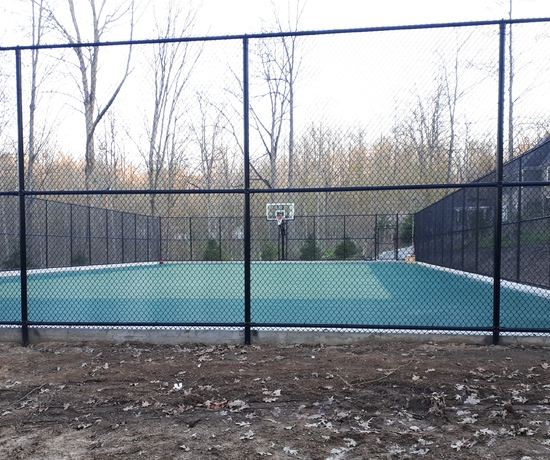 Sports Enclosure
For sports enthusiasts it doesn't get much better than having access to a multi-use court. This court is used for tennis, basketball, volleyball, winter ice, hockey and pickleball. It offers years of long-lasting protection, with minimal to no maintenance. The 10' high black chainlink enclosure is nestled in the rolling hills of Jordan, Ontario, with a picturesque view all around. The 1.5" tight weave holes make it convenient for keeping the puck or all sizes of balls in the court.

"I have to tell you that your crew that was here today is a super good bunch of guys. They are incredibly accommodating, and seem very happy with what they are doing. It is so nice to see a nice group of guys doing what they enjoy and take pride in their work.

My wife and I will always recommend your company for any outside work. I know the job is not done yet but I trust your guys 100%. Thank you for doing our fence so quickly and professionally. "

Thank you for completing our fence. The hard work is very much appreciated and it shows in the quality of workmanship.

I want to thank you all once again for the awesome work that you have done on my property (past and present). I am already enjoying the benefit of the fences that you have recently installed, it has given me a new sense of security and look marvelous! My wooden fences are holding up beautifully and give me and my dogs a great deal of privacy and security. As always, your craftmanship is second to none! It is always a pleasure to do business with ALL of you at Post Time Services. I will look forward to having you come back again to install a few more posts!

Hi Jason. We wanted to thank you for the great job you and your team did on our paddocks. We are very happy with the work you always do, and again another job well done.

"Just wanted to send you a quick email to say how happy we are with the new fence.

Jack and his crew did a great job, you can really see when someone cares about the quality of the work they do. Also, he was great at communicating with us throughout the job. I still can't believe that they work through the cold weather the way they did. We will be sure to tell anyone who is doing a fence to give you a call.

Once again, thank you to you and yours on the great work."

Thanks so much for getting the fence done so quickly. We are so happy with the work. Your guys are awesome.

Thanks for the quick service your guys Justin and Jordan were very professional and job looks great.

Hi James, I wanted to just let you know, we absolutely love the fence! It looks incredible! Derek who was lead on the project; he was really great. Every interaction was awesome; same with the other people that helped out. Super polite; and no mess anywhere. Everything was so clean; so well done. We are super happy! Just wanted to let you know how please we are just with everything. Thanks so much.

Kevin, Jason, Doug, etc. You done good. Me proud. I sleep now. Me too tired to speak complete sentences. Thanx again.

I also just wanted to take a minute and let you know how wonderful the workers that were on site were! Polite, precise, fast and did an incredible job! We couldn't be happier. A great team. Thanks again to everyone we dealt with at your company. It's been a pleasure the whole way through!