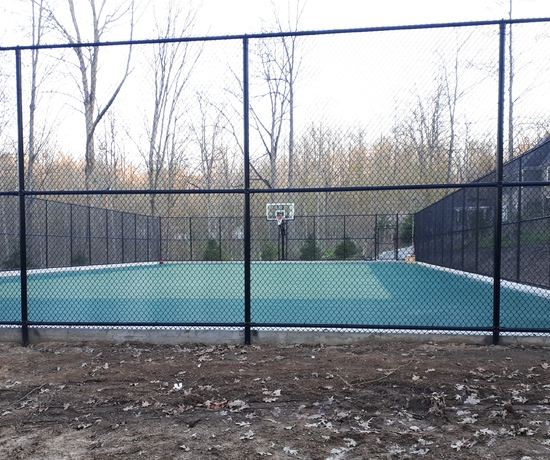 Sports Enclosure
For sports enthusiasts it doesn't get much better than having access to a multi-use court. This court is used for tennis, basketball, volleyball, winter ice, hockey and pickleball. It offers years of long-lasting protection, with minimal to no maintenance. The 10' high black chainlink enclosure is nestled in the rolling hills of Jordan, Ontario, with a picturesque view all around. The 1.5" tight weave holes make it convenient for keeping the puck or all sizes of balls in the court.

Thank you again for the wonderful job done, putting up the fence. The fence looks amazing.

Hello James. I wanted to THANK YOU VERY MUCH for making possible every apsect of this project. How quickly you slotted us in, the speed with which the work was completed, not to mention the fence itself, we couldn't be more pleased! The two fellas who toiled in the heat putting it all together, did you hand pick the best guys to send to us? They are truly STARS! (Honestly!) The fence gives the exact effect which I envisioned, and blends with the pond and shrubs-to-be-planted to create a serene feel. The presence of the fence is very subtle, which is exactly what I was aiming for. Once again, a big thank you to you and your staff for the work on this project. you can be assured of a first-class reference from us.

Thank you very much for the excellent work done by Jack and the team, and for the prompt and courteous call from James. We really appreciate it.

Would you please pass along how delighted we are with the gate but more than that, how much we appreciated the helpfulness and "good nature" of David both before the installation and during the job. He was such a pleasure to work with.

Thanks to all.

Your guy's Doug & Braiden are amazing. They were so nice & take pride in doing a great job. So thankful we had them do our fence. Thank you.

Kevin, What a difference the appearance of the fencing makes to our property, it looks great. Post Time did an excellent job.

Kalvin and Drew just finished my fence. It's absolutely beautiful. Phenomenal.

Just a quick note to say a huge thank you for coming so quickly, the work is impeccable (as usual) and I feel much safer now that this section has been raised. This is so appreciated. Thanks again and stay safe!

Great job on the fence. Thanks again.

Thank you for completing our fence. The hard work is very much appreciated and it shows in the quality of workmanship.