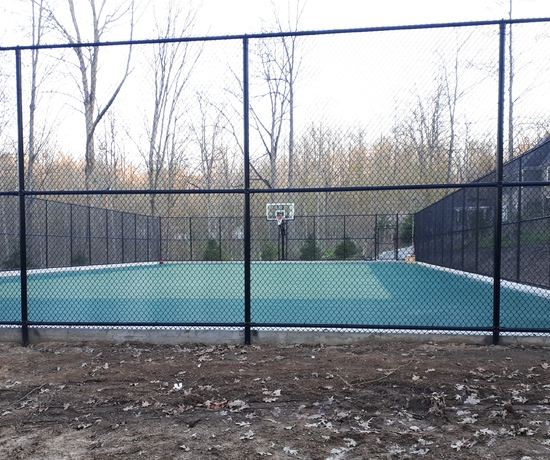 Sports Enclosure
For sports enthusiasts it doesn't get much better than having access to a multi-use court. This court is used for tennis, basketball, volleyball, winter ice, hockey and pickleball. It offers years of long-lasting protection, with minimal to no maintenance. The 10' high black chainlink enclosure is nestled in the rolling hills of Jordan, Ontario, with a picturesque view all around. The 1.5" tight weave holes make it convenient for keeping the pick or all sizes of balls in the court.

The young men you sent were really polite, neat and did a good job! Wanted to pass that on.

Very impressed with service, installation, customer support, and the installation was done within the time indicated. Great job on the fence. Almost a year now, no issues, good quality, solid construction and very beautiful. So glad for their business!

What a nice job you all did. Thanks

Hello James, your guys did a great job and were very personable. Thanks again.

I will refer Post Time Services to anyone that is looking for a reputable fencing company. I guess I was just plain lucky to get you for the job.

My compliments to you and your team. The professionalism and friendliness of your crew is absolutely tops!

Hello Kevin, The fence looks great - we are very happy with the job that Doug and Doug did!

Kevin, we are extremely proud of the work you've complete for us. Your team was nothing but friendly, efficient, professional and meticulous. We've had people stop in their cars to compliment the look and also ask who did the work. We've recommended you highly. The men who came were not only organized and clean, but also kind & caring toward myself & children. We are very pleased with this job.

Hi Kevin. The fence looks great. The whole thing was a good experience and I certainly wouldn't hesitate to recommend you.

Good Morning Kevin - Thank you for your prompt response. Thanks for thinking ahead – love people who are proactive. Guys did a fantastic job with the fence – it looks great. Thank you for a great job!