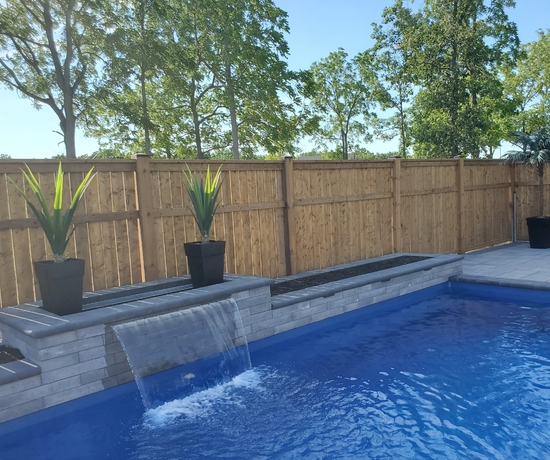 Private Oasis
Look at this beautiful private oasis! We built the fence before the pool and backyard were finished, so we had to return to get a good look at the final product. The owners were happy to show us the waterfall and other features of their yard. Do not be fooled by the beginning stages of a building project, the end result turned out beautiful.

Thanks so much for all your work. Your crew was wonderful...especially Zack; great customer service when dealing with a client. He is to be commended.

I just wanted to say that I had a look at the ramp repair that you did on the Ontario St. home. It looks much better. You guys did a great job.

Just wanted to say thank you again for such a great job you did.

Thank you so much for installing the fence. I really like it. It's way better. Anyhow, I just want to let you know your guys did a phenomenal job.

Just wanted to also tell you that your workers have demonstrated very professional and very polite manners.

You keeping me in the loop made me feel very comfortable with this project :)

I will definitely recommend Post Time!

Fantastic company. I had a contractor butcher my chain link fence. I called over 13 companies. Only two were willing to help. Post Time services offered to come the very next day. Offered a fantastic price! They came and fixed all that was not right. Should of gone with them from the get go! You will not be disappointed with the company!

The gentlemen did a wonderful job and were just a total pleasure to deal with and answer all my questions.

We appreciate the work that was done by your very capable and polite workers. The gate/fence removal was quick and painless (for us). The repair on the remaining portion, completed the next day, looks like new. We're very happy with the work. Thanks.

The guys were great, very nice men. We were going to do the fence ourselves, then threw our hands up and decided some things are just worth paying someone else to do. We are so excited to have them out there! You have been really great at breaking the job down into parcels that I can afford and still work from your end. You guys are always my first call whenever we go to do stuff around here. As you are the only guys I recommend when anyone asks for a recommendation.