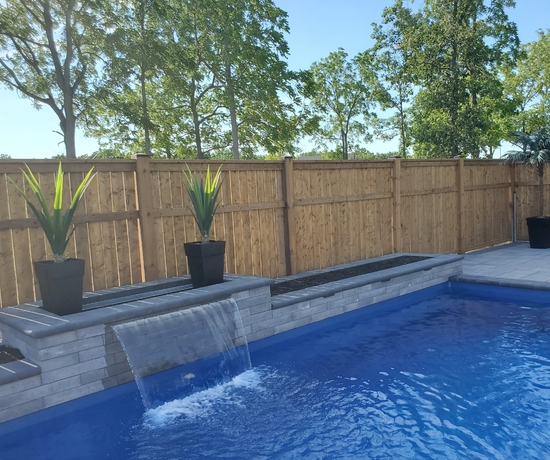 Private Oasis
Look at this beautiful private oasis! We built the fence before the pool and backyard were finished, so we had to return to get a good look at the final product. The owners were happy to show us the waterfall and other features of their yard. Do not be fooled by the beginning stages of a building project, it can still turn out beautiful.

Your guys did an excellent job cleaning up the work site when they left. It was something my father always stressed, clean up the work site every day even if you are not done. We are very pleased with the work and would recommend your services to our family and friends.

Wow, the last section and the gates are beautiful. We are really pleased with all your work. Thanks so much.

Very impressed with service, installation, customer support, and the installation was done within the time indicated. Great job on the fence. Almost a year now, no issues, good quality, solid construction and very beautiful. So glad for their business!

Thank you for sending the guys to install the fence on Park St. It looks beautiful and durable and I'm so happy. The two men were very polite and respectable while working on site. I'm hoping to use your services again for more projects.

I love the fencing; you did a great job.

Thanks again.

David did a great job and was very polite and professional to deal with.

Thanks again for coming out again. We respect your dedication and determination. We are so pleased that you guys made sure we were taken care of. We can see this is a company that takes pride in its work.

We have gotten lots of comments on the fence! It looks great! Thanks again for the great service and quality workmanship!

The fence looks terrific, the crew worked really efficiently and did a really great job with the installation! Thank you for the excellent service, I have already referred you to my neighbor.

Hello James. I wanted to THANK YOU VERY MUCH for making possible every apsect of this project. How quickly you slotted us in, the speed with which the work was completed, not to mention the fence itself, we couldn't be more pleased! The two fellas who toiled in the heat putting it all together, did you hand pick the best guys to send to us? They are truly STARS! (Honestly!) The fence gives the exact effect which I envisioned, and blends with the pond and shrubs-to-be-planted to create a serene feel. The presence of the fence is very subtle, which is exactly what I was aiming for. Once again, a big thank you to you and your staff for the work on this project. you can be assured of a first-class reference from us.

Hello:

Just wanted to drop you a quick note to tell you all how much we appreciated the lovely gifts!!

Thank-you so much! You guys ROCK!