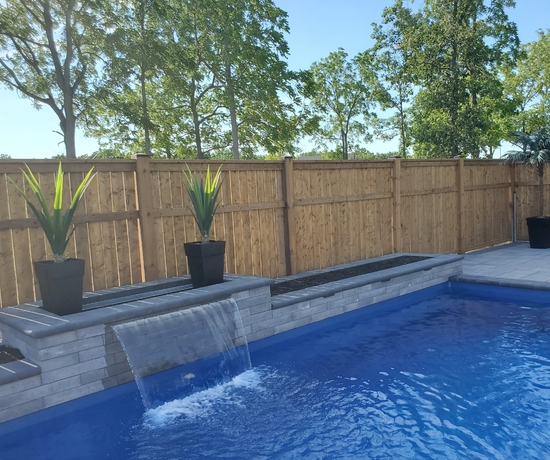 Private Oasis
Look at this beautiful private oasis! We built the fence before the pool and backyard were finished, so we had to return to get a good look at the final product. The owners were happy to show us the waterfall and other features of their yard. Do not be fooled by the beginning stages of a building project, it can still turn out beautiful.

Hey Jay. Fence looks great; your guys did a great job!

The fence looks fantastic. Your crew did a great job and my neighbour and wife commented on how approachable and easy going they were. Thanks for the great work.

Hi James & Kevin. Its BEAUTIFUL! Jack & Quintin did a wonderful job. Everyone stops to admire it. Thanks again.

Thanks so much for getting the fence done so quickly. We are so happy with the work. Your guys are awesome.

Kevin and Jason, we love our new fence. You guys did a great job and TJ and Jeff were troupers for putting up with the rain and mud in Port Perry and making our fence look amazing. You came to us highly recommended and now we know why. Thanks!

Many thanks to the team at Post Time Services. The removal of our old chainlink fence and installation of a privacy fence was completed with minimal disruption to our property and we couldn't be happier with the final results. The crew that completed the installation were very friendly and professional. They always took care to ensure the site was cleaned up at the end of each day which was very much appreciated. The new fence looks AWESOME and we will be enjoying the privacy it provides for many years to come!

Thanks again to everyone at Post Time Services!

The guys got all the posts in today as planned and Henry showed me how to do a few things with the fence in terms of construction. He and Theo were great and real assests for the company.

Thanks for the great fencing job.

I will refer Post Time Services to anyone that is looking for a reputable fencing company. I guess I was just plain lucky to get you for the job.

Thank you once again for all your help and also I would like to thank the fence installer Dave... he was great and did a very good job an was very satisfied with the work.