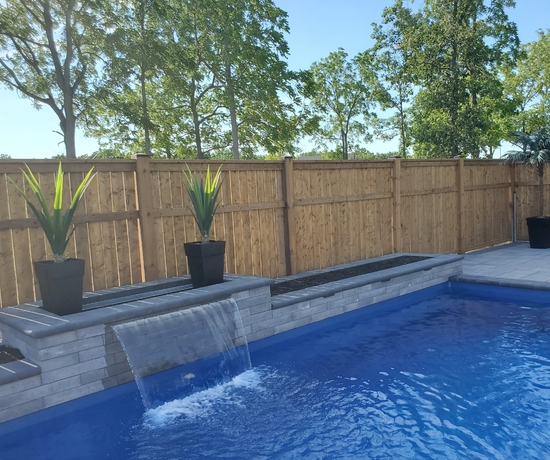 Private Oasis
Look at this beautiful private oasis! We built the fence before the pool and backyard were finished, so we had to return to get a good look at the final product. The owners were happy to show us the waterfall and other features of their yard. Do not be fooled by the beginning stages of a building project, the end result turned out beautiful.

Thanks, Justin and crew were great and we were very please with the results. Thanks for squeezing us into your very busy schedule.

A sign of a good company is when they look after the customer when there is a problem. Although the fence that went up looked great, it didn't match the other existing fence. The style matched but the slope didn't. After contacting Post Time they came back and corrected everything to our satisfaction. Tyler is also a very good asset to your company as he did a great job and was a pleasure to deal with. James and Kevin I also thank you for a job well done. I will definitely recommend your company to friends and family.

We are very satisfied with the fencing job completed by Doug and his crew. The work was completed profesionally and with impeccable detail. Thank, Kevin for the expert and experienced advice in the planning. We highly recommend Post Time.

My compliments to you and your team. The professionalism and friendliness of your crew is absolutely tops!

We have gotten lots of comments on the fence! It looks great! Thanks again for the great service and quality workmanship!

Great job, the fence looks so excellent. The guys had to work in the worst conditions!

Thanks so much for the fence. It looks great. Your guys were awesome.

Just a quick note to say a huge thank you for coming so quickly, the work is impeccable (as usual) and I feel much safer now that this section has been raised. This is so appreciated. Thanks again and stay safe!

Everything is going really well! The fences look great and the guys are doing an awesome job!

Hey James. Great job and thank you so much for helping keep my grandbabies safe.