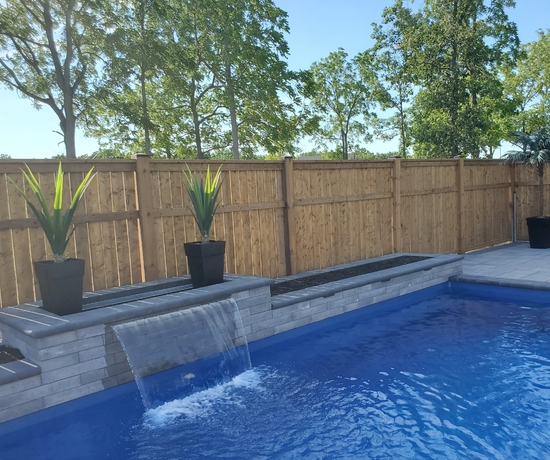 Private Oasis
Look at this beautiful private oasis! We built the fence before the pool and backyard were finished, so we had to return to get a good look at the final product. The owners were happy to show us the waterfall and other features of their yard. Do not be fooled by the beginning stages of a building project, the end result turned out beautiful.

Thanks again for coming out again. We respect your dedication and determination. We are so pleased that you guys made sure we were taken care of. We can see this is a company that takes pride in its work.

Hey James. Great job and thank you so much for helping keep my grandbabies safe.

Just want to say thank you to the whole team for responding to emails quickly being punctual and professional.

We have also already recommended you and your team to friends of ours.

Thank you very much we're so happy with it. You guys were amazing.

Your guy's Doug & Braiden are amazing. They were so nice & take pride in doing a great job. So thankful we had them do our fence. Thank you.

Thank you Post Time for my beautiful custom fencing. Kevin has taken the time to make our fencing needs work aesthetically and within our budget.

Happy customers, happy dogs!

Kevin and Jason, we love our new fence. You guys did a great job and TJ and Jeff were troupers for putting up with the rain and mud in Port Perry and making our fence look amazing. You came to us highly recommended and now we know why. Thanks!

What a nice job you all did. Thanks

Very impressed with service, installation, customer support, and the installation was done within the time indicated. Great job on the fence. Almost a year now, no issues, good quality, solid construction and very beautiful. So glad for their business!

Another professional job done well by Doug & Crew! Happy with how it all worked out.