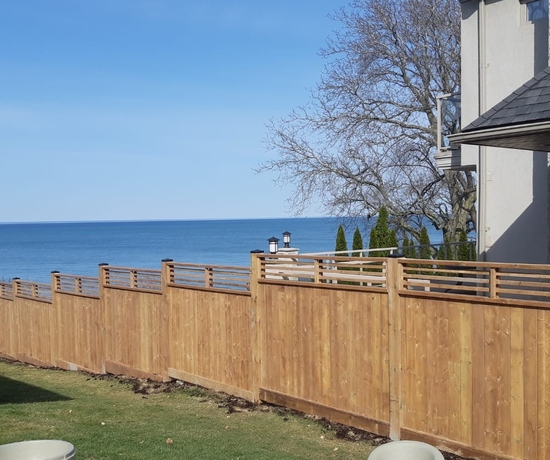 Lakeside Privacy
This client required a wood privacy fence that was sturdy, yet attractive. This Single Face Style Solid Privacy fence provides them full privacy from neighbours. The custom topper with horizontal slats and black galvanized steel post caps add something unique to its curb appeal. This wood fence will provide the best form of privacy with great security for years with low maintenance.

We are totally impressed with your company......

Your crew recently did some work for us and the crew was very respectful and professional and made sure we were happy with their work every step of the way. They went out of their way to get the job done quickly for us and cleaned up the site thoroughly afterwards. We have no problem recommending you or having you return in the future.

Hey Jay. Fence looks great; your guys did a great job!

I wanted to say thank you. You're crew are always great and Brendon was our primary contact and he was a real pleasure. So kind and personable. I would 100% recommend your services, and actually already have!

Thanks for the quick service your guys Justin and Jordan were very professional and job looks great.

Pete and I were more than impressed with Quinton and Tyler's professionalism. they were hardworking and pleasant to work with, and the fence looks great. Please extend our thanks to them.

Just want to take a minute to share how pleased Marg & I are with the recent fencing installation to our property. The results are exactly what we envisioned. Doug & Richard are true professional, perfectionist installers - second to none. We thoroughly enjoyed having them on the property as they are pleasant, courteous & knowledgeable. We highly recommend them!

Just wanted to also tell you that your workers have demonstrated very professional and very polite manners.

You keeping me in the loop made me feel very comfortable with this project :)

I will definitely recommend Post Time!

I would recommend your services to any friends or family. Thank you.

Hello Kevin, The fence looks great - we are very happy with the job that Doug and Doug did!

We moved into Pelham in 2016 and needed a sizable backyard fence to contain our 97lb Pudel Pointer dog. A contractor/friend Vandenhaak Renovations recommended Post Time Services and we were NOT disappointed. They were professional, knowledgeable and offered practical solutions to our fencing needs. Installation of the farm fence and 2 gates was done in the very wet spring of 2017 without any damage to surrounding areas. The posts and fence lines are bang on straight and they operated a very clean construction site. I would highly recommend them.