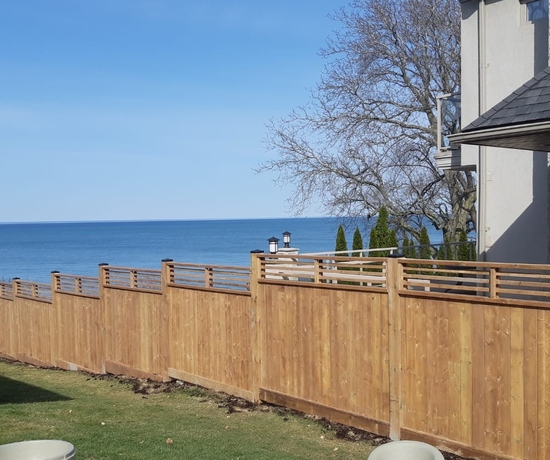 Lakeside Privacy
This client required a wood privacy fence that was sturdy, yet attractive. This Single Face Style Solid Privacy fence provides them full privacy from neighbours. The custom topper with horizontal slats and black galvanized steel post caps add something unique to its curb appeal. This wood fence will provide the best form of privacy with great security for years with low maintenance.

Thanks for considering to come up and help us out in such short notice. We will continue to be a huge fan of Post Time Services. You guys are a class act.

Kevin, we would like to thank you for having the best team possible to design & construct our fence. Our initial contact with your company was through James, he was very professional & personable. We were fortunate to have the team led by Jack, whom we must say is a natural born teacher/leader. His ability to guide and teach the younger men to work to his high standard was done with respect & patience. Jack, Tyler Derrick & Donny were great to have around our home daily. They are all very hard workers, pleasant with great attitudes... and great sense of humour. While constructing our fence the guys encountered a few combative neighbours, they handled our neighbours with smiles and polite conversation. Now our fence: It's fabulous! The workmanship is of the highest quality. The fact that we have dogs was taken into account & the fence was made flush to the ground so the dogs can't get underneath. Our property isn't flat, but instead large with a stream that runs through it, again with our dogs in mind a screen was added for their safety. A custom gate was made for us like nothing we have ever seen before. Overall our experience with Post Time was 10/10 and we will definitely be using them for our deck, also we will recommend Post Time to everyone who admires our fence.

You know, I really appreciate this. It's nice to see that some companies out there still care about customer service and satisfaction. It's apparent you guys are no exception. Thank you!

Thank you for your professionalism Hali. Wishing you a wonderful day!

Occasionally in life you run into somebody that far exceeds you expectaions. Jack has been that guy. Not just his talents but his loyalty professionalism and attention to detail while doing it and a caring and charismatic way. Not just stop at that; everyone of the young men you have working for you is exceptional. Vitor, I'm sad to tell you, will not be in your employ for long. That kid is going places!

Hey Jason,

Thank you very much for sending your guys back. Everything is perfect and the neighbours are happy. I must compliment your guys - throughout all my contact with them, they were personable & professional. We are very happy with your services.

We moved into Pelham in 2016 and needed a sizable backyard fence to contain our 97lb Pudel Pointer dog. A contractor/friend Vandenhaak Renovations recommended Post Time Services and we were NOT disappointed. They were professional, knowledgeable and offered practical solutions to our fencing needs. Installation of the farm fence and 2 gates was done in the very wet spring of 2017 without any damage to surrounding areas. The posts and fence lines are bang on straight and they operated a very clean construction site. I would highly reccomend them.

Kevin - love the fence - you have some great employees too!

Thanks for the quick service your guys Justin and Jordan were very professional and job looks great.

Great job as always. Thank you to you and your crew.