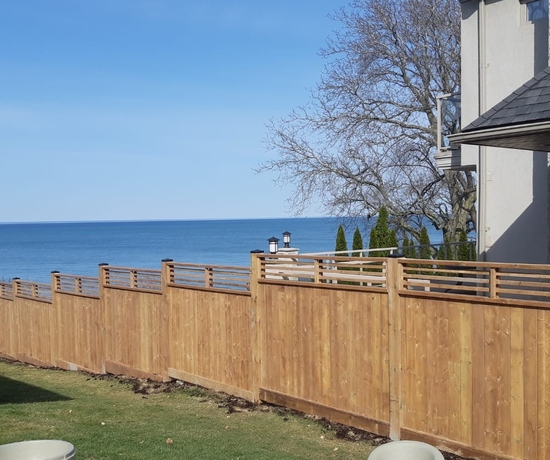 Lakeside Privacy
This client required a wood privacy fence that was sturdy, yet attractive. This Single Face Style Solid Privacy fence provides them full privacy from neighbours. The custom topper with horizontal slats and black galvanized steel post caps add something unique to its curb appeal. This wood fence will provide the best form of privacy with great security for years with low maintenance.

Thanks so much for a fantastic job. Neighbours all love it too. I hope Post Time receives more business from doing a professional job.

Just wanted to let you know the guys did an excellent job on the fence and were amazing to work with. The guys did an amazing job. Jack and his crew were pro's and the final product exceeded my expectations! And they were able to complete close to 300' of fence in 4 days!

Kevin, thank you very much for replacing the post. You have a couple of great guys working for you.

Just to let you know the crew that did our fence did a terrific job and were extremely courteous.

Very impressed :)

Thank you for the great job!!

Dear Jack, thank you for your hard work on installing our fence. Your professionalism and skill was very much appreciated. We wish you, and your wife and the team at Post Time a happy and safe holiday season. Thank you!

Thank you so much for installing the fence. I really like it. It's way better. Anyhow, I just want to let you know your guys did a phenomenal job.

The guys got all the posts in today as planned and Henry showed me how to do a few things with the fence in terms of construction. He and Theo were great and real assests for the company.

Kevin, your guys must be exhausted today. They worked hard yesterday and we thank you for that! It was a big job, dirty, cold, miserable and they kept at it. Everything looks great. Thank you.

Thanks again for the job fixing the fence! They did a good job!

Thank you for the work, it looks great and feels very solid and the workers didn't need any assistance, they just came, introduced themselves and proceeded with the job. We're very happy with the service!