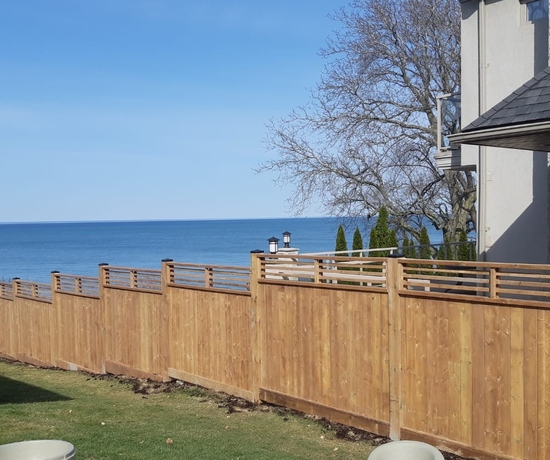 Lakeside Privacy
This client required a wood privacy fence that was sturdy, yet attractive. This Single Face Style Solid Privacy fence provides them full privacy from neighbours. The custom topper with horizontal slats and black galvanized steel post caps add something unique to its curb appeal. This wood fence will provide the best form of privacy with great security for years with low maintenance.

Your guys did a great job that I get to enjoy

A good job done at a good price. I'm happy.

We are very happy with the work done by your crew. Totally impressed with their work ethic and skill. Courteous, hardworking, and they worked through some very hot weather never losing pace...we are very very pleased! Thank you.

We would like to thank you and your staff for the beautiful fence you constructed; we are so happy with the fence! Not only is it functional, but it is aesthetically pleasing to look at and enhances our property. Thank you.

This company is first class!

The window wells at Sweeney and Respite look great!

The fence looks great. Thank you so much.

Jack installed today. He did a fabulous job and is so talented. We are very, very please with the result.

I just wanted to apologize for not going out to see the boys yesterday. I didn't even get to see the horse barn until this morning. I want to tell you it looks absolutely BEAUTIFUL!!!! I'm thinking of taking one of the stalls for myself. I have called the building the "Tajmastall"! I hope the boys were not too upset but I knew they didn't need a babysitter or supervision of any kind. I was amazed at the amount of work they got done. WOW!!! Thanks for a beautiful job!

Their installers are perfectionsists, they put a beautiful chain link fence around our pool, and installed a side driveway for our heavy vehicles. Highly recommended company.