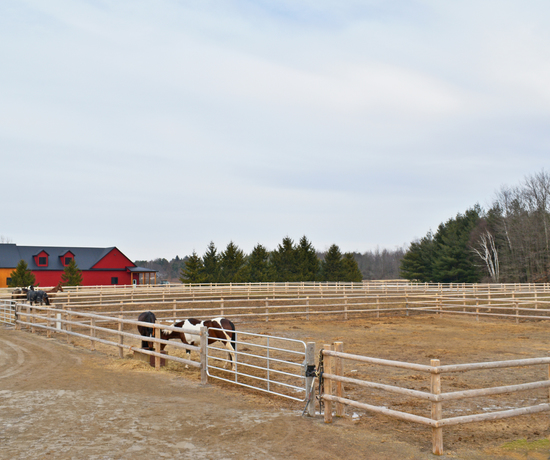 Heartland Style Farm Fence
The Heartland style farm fence is a beautiful post and rail fence fit for a decorative and effective look. We provided drinking posts for the farm which are frost free automatic waterers that look like posts. These drinking posts use hydrant technology which works without having hydro. We also installed the Heartland fence in line with the drinking posts so that it could function for two different paddocks.

Thanks for your quick response today Kevin. I will sure tell anyone who needs fencing to give you a call as I really appreciate your service.

Hey Jay. Fence looks great; your guys did a great job!

A couple of months ago I purchased a home in Smithville, Ontario. Having a high energy dog I needed a fence built as quickly as possible after I closed on my new home. Not having any prior knowledge of the various contractors in the area, I went to a local lumber supplier where the staff recommended that I try Post Time Services in Fenwick, Ontario. They were available to start the job the day after I moved in. They showed up as scheduled and after a couple of brief discussions as to exactly what I wanted in the way of a gate they immediately started doing the measuring and augering the holes. A few days later my fence was finished and I'm immensely pleased with their work. They used 6 x 6 10 foot posts sunk a full 4 feet into concrete so I suspect nothing short of a tornado will bring my fence down! The quality of their workmanship was superb!

Their crew was friendly, courteous and extremely professional. Quite frankly they worked their butts off getting my fence up. Understanding that I needed an enclosed space to let my dog run free, they even supplied a temporary frost fence section as a gate while they were working on the decorative lattice.

To anyone wanting fence or deck work done, I would recommend Post Time Services without reservation.

The young men you sent were really polite, neat and did a good job! Wanted to pass that on.

Excellent work by Jack and Peter completing the fence. Include us on your list of extremely satisfied customers.

Kalvin and Drew just finished my fence. It's absolutely beautiful. Phenomenal.

Thanks James. Doug and his crew did a fantastic job - we are so pleased!

Another professional job done well by Doug & Crew! Happy with how it all worked out.

I just wanted to apologize for not going out to see the boys yesterday. I didn't even get to see the horse barn until this morning. I want to tell you it looks absolutely BEAUTIFUL!!!! I'm thinking of taking one of the stalls for myself. I have called the building the "Tajmastall"! I hope the boys were not too upset but I knew they didn't need a babysitter or supervision of any kind. I was amazed at the amount of work they got done. WOW!!! Thanks for a beautiful job!

James: Thank you very much for the quickness in augering & setting the fence posts. The two young men that did the work were very hard working & very professional.