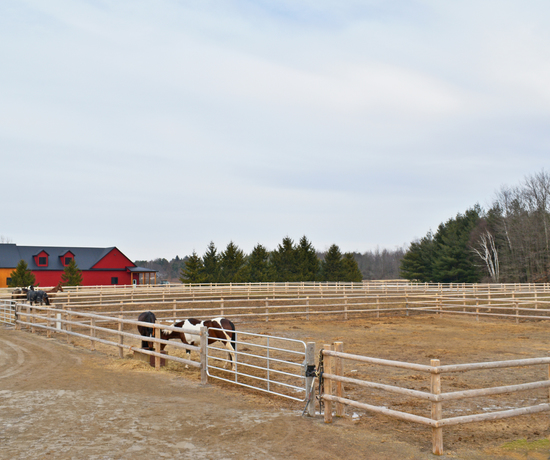 Heartland Style Farm Fence
The Heartland style farm fence is a beautiful post and rail fence fit for a decorative and effective look. We provided drinking posts for the farm which are frost free automatic waterers that look like posts. These drinking posts use hydrant technology which works without having hydro. We also installed the Heartland fence in line with the drinking posts so that it could function for two different paddocks.

Kevin, I am remiss in not thanking you and your team for a great product and a fine organization to work with.

I would recommend your services to any friends or family. Thank you.

The Plain Bay Polo Centre moved to Wainfleet in March of 2018. We started getting quotes to install fences, barns, stalls, arena, polo field, and more. Then I had my first meeting with James from Post Time. He was very helpful. We walked the property and spoke about my plans and what Post Time would be able to help me with. We had received many quotes for our planned thousands of feet of fencing, from no climb wire with a top rail and more electric fences and gates than we could keep track of. We ended up going with Post Time to do all of our work, including a privacy gate at the end of the driveway. That is when we got to meet the rest of the crew from Post Time. Everyone was full of smiles, chatty, and more than willing to help out. It was a great group from the start to the end of the project. Kevin was able to help with much more than fencing. We installed a one of a kind hitting cage in the club house, stall fronts, more gates, and we continued to add more paddocks throughout 2020. When I need a quick fix of ASAP due to visiting teams, charity events, or even another set of hitching posts, Kevin and crew would arrive the very next if not the same day. I would never call anyone else other than Post Time for any of our needs, as they helped us with more than just fencing. Through the many farms we have owned and built, I would say Post Time is the best company I have ever worked with and exceeded all expectations by 120%. Thank you Post Time!

Big day at Rumar Farm. Post and wire going in on the new pear rows. Thanks to @posttimeservices for the good work.

The fence looks terrific, the crew worked really efficiently and did a really great job with the installation! Thank you for the excellent service, I have already referred you to my neighbor.

Thanks James. You and your guys did a great job all around. Very impressed.

Great job on the fence. Thanks again.

Your team finished today, absolutely perfect thank you.
I hear you do decks, I would love to have someone come by for a quote.

David did a great job and was very polite and professional to deal with.

We are totally impressed with your company......

Your crew recently did some work for us and the crew was very respectful and professional and made sure we were happy with their work every step of the way. They went out of their way to get the job done quickly for us and cleaned up the site thoroughly afterwards. We have no problem recommending you or having you return in the future.