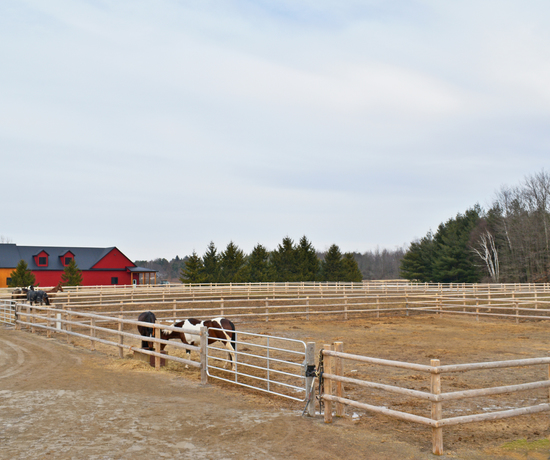 Heartland Style Farm Fence
The Heartland style farm fence is a beautiful post and rail fence fit for a decorative and effective look. We provided drinking posts for the farm which are frost free automatic waterers that look like posts. These drinking posts use hydrant technology which works without having hydro. We also installed the Heartland fence in line with the drinking posts so that it could function for two different paddocks.

Kevin and Jason, we love our new fence. You guys did a great job and TJ and Jeff were troupers for putting up with the rain and mud in Port Perry and making our fence look amazing. You came to us highly recommended and now we know why. Thanks!

Thanks again for coming out again. We respect your dedication and determination. We are so pleased that you guys made sure we were taken care of. We can see this is a company that takes pride in its work.

Great job as always. Thank you to you and your crew.

Hello James. I wanted to THANK YOU VERY MUCH for making possible every apsect of this project. How quickly you slotted us in, the speed with which the work was completed, not to mention the fence itself, we couldn't be more pleased! The two fellas who toiled in the heat putting it all together, did you hand pick the best guys to send to us? They are truly STARS! (Honestly!) The fence gives the exact effect which I envisioned, and blends with the pond and shrubs-to-be-planted to create a serene feel. The presence of the fence is very subtle, which is exactly what I was aiming for. Once again, a big thank you to you and your staff for the work on this project. you can be assured of a first-class reference from us.

Really pleased with the work and the workers. Should have had it done years ago.

Perfect - thanks Kevin. Looks great. Nice and straight!

Good work on our fence, thanks Kevin.

We are very happy with the new fence! Thank you.

Marie and the whole family, especially the horses...

We are very pleased with the fence! Your team was professional and fast. They left no trace of their time here other than the awesome fence.

Thanks for the great service.

Thank you very much. It was professional all way round.