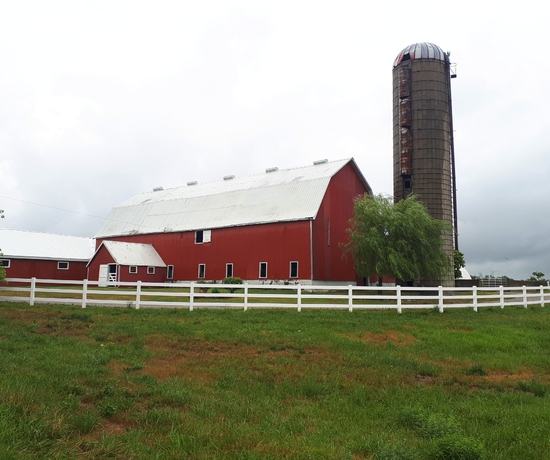 PVC Ranch
This farm has a few different aspects to it, the PVC ranch style fence, the electric fence, and a few gates as well. Instead of going with wood fencing, we decided on PVC which will not rot and will maintain in great condition for many years.
"A heartfelt thanks to Post Time for the fantastic fencing job completed this summer on the farm. From the planning stage with Kevin, to the set up with Doug and his crew, we are completely satisfied with the professional work well done. We are going to miss having Post Time around!"
Mark and Margaret

Thank you once again for all your help and also I would like to thank the fence installer Dave... he was great and did a very good job and I was very satisfied with the work.

Thank you...Fence looks beauty!!!

Thanks for your quick response today Kevin. I will sure tell anyone who needs fencing to give you a call as I really appreciate your service.

Hi Kevin & James. I just wanted to drop you a note, thanking you, Doug, and his crew for a great job. The fence looks good, and even my neighbour was complimenting the work. I will certainly mention you to others if they are looking for a fence.

I love the fencing; you did a great job.

Thanks again.

Hi Kevin. Your worker is here this morning and doing a great job! I wanted to let you know how professional he is. Sometimes you don't get to hear good comments about employees so I wanted to drop you a line about him. I will definitely share word of mouth about your business with my horse club buddies! Thanks!

A wonderful job - we are very satisfied (as is Joey!). The 2 young fellas that did the job were very personable and capable and did a great job! Thank you.

Thanks so much for the fence. It looks great. Your guys were awesome.

Very professional, quick, friendly and responsive to all of our questions. Thank you all for the wonderful job that you did for us, we are so very pleased!!!! I would highly recommed Post Time to anyone who is looking to replace or get a new fence.

The fence looks great. We are very pleased with the work. Thank you for a job well done.