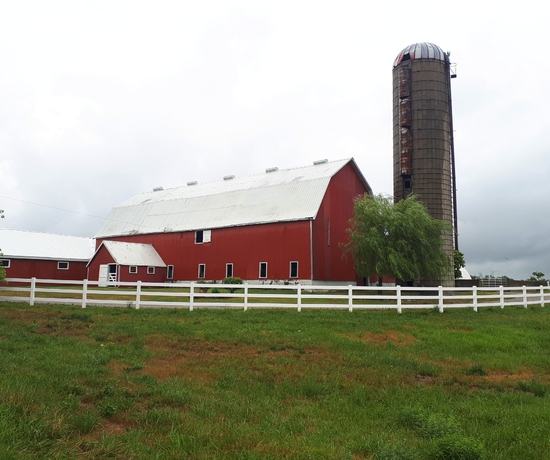 PVC Ranch
This farm has a few different aspects to it, the PVC ranch style fence, the electric fence, and a few gates as well. Instead of going with wood fencing, we decided on PVC which will not rot and will maintain in great condition for many years.
"A heartfelt thanks to Post Time for the fantastic fencing job completed this summer on the farm. From the planning stage with Kevin, to the set up with Doug and his crew, we are completely satisfied with the professional work well done. We are going to miss having Post Time around!"
Mark and Margaret

The installation crew did a good job. In fact, they went the extra mile in suggesting a black fence instead of the galvanized fence we had previously ordered. Margaret and I are quite pleased with the result.

Hi James & Kevin. Its BEAUTIFUL! Jack & Quintin did a wonderful job. Everyone stops to admire it. Thanks again.

Thank you so much for the speedy service!! Jack did a fabulous job for us.

Post Time Services is the best in the biz!!

Thanks for the quick service your guys Justin and Jordan were very professional and job looks great.

We are totally impressed with your company......

Your crew recently did some work for us and the crew was very respectful and professional and made sure we were happy with their work every step of the way. They went out of their way to get the job done quickly for us and cleaned up the site thoroughly afterwards. We have no problem recommending you or having you return in the future.

I just want to thank you ALL for making work more pleasurable.

We love our fence! Post Time was able to fit us in on a very tight timeline and the work was amazing (despite the not-so-great weather conditions...)! I was even being picky and all requests were taken care of in a timely manner. Nothing but good things to say about our experience! Thanks!

A couple of months ago I purchased a home in Smithville, Ontario. Having a high energy dog I needed a fence built as quickly as possible after I closed on my new home. Not having any prior knowledge of the various contractors in the area, I went to a local lumber supplier where the staff recommended that I try Post Time Services in Fenwick, Ontario. They were available to start the job the day after I moved in. They showed up as scheduled and after a couple of brief discussions as to exactly what I wanted in the way of a gate they immediately started doing the measuring and augering the holes. A few days later my fence was finished and I'm immensely pleased with their work. They used 6 x 6 10 foot posts sunk a full 4 feet into concrete so I suspect nothing short of a tornado will bring my fence down! The quality of their workmanship was superb!

Their crew was friendly, courteous and extremely professional. Quite frankly they worked their butts off getting my fence up. Understanding that I needed an enclosed space to let my dog run free, they even supplied a temporary frost fence section as a gate while they were working on the decorative lattice.

To anyone wanting fence or deck work done, I would recommend Post Time Services without reservation.

The fence is doing the job it was meant to do. Lots of comments on it, all good. Gave a couple of references.

Big day at Rumar Farm. Post and wire going in on the new pear rows. Thanks to @posttimeservices for the good work.