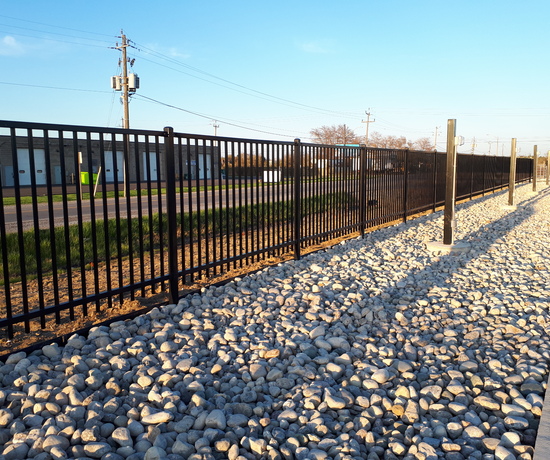 Ornamental and Chainlink
This site had many needs, from commercial fencing and gates, to bollards and enclosures. Here, the commercial black chainlink fence with weave in Mystic privacy slats works beautifully with the commercial ornamental fencing. It provides security without sacrificing aesthetics. The fencing offers long life and very little maintenance. The sliding gates make for strong barriers and can conveniently slide out of sight along the fence lines when opened. The bollards protect areas from accidental damage.

Just wanted to let you know that Doug and Trevor did an excellent job on our fence. We are very impressed with the workmanship and their work ethic. They were always very accommodating, professional and meticulous!

Thank you so much Kevin, horses are out and feeling happy. :)

Kevin, we are extremely proud of the work you've complete for us. Your team was nothing but friendly, efficient, professional and meticulous. We've had people stop in their cars to compliment the look and also ask who did the work. We've recommended you highly. The men who came were not only organized and clean, but also kind & caring toward myself & children. We are very pleased with this job.

A sign of a good company is when they look after the customer when there is a problem. Although the fence that went up looked great, it didn't match the other existing fence. The style matched but the slope didn't. After contacting Post Time they came back and corrected everything to our satisfaction. Tyler is also a very good asset to your company as he did a great job and was a pleasure to deal with. James and Kevin I also thank you for a job well done. I will definitely recommend your company to friends and family.

We are very happy with the work done by your crew. Totally impressed with their work ethic and skill. Courteous, hardworking, and they worked through some very hot weather never losing pace...we are very very pleased! Thank you.

Very professional, quick, friendly and responsive to all of our questions. Thank you all for the wonderful job that you did for us, we are so very pleased!!!! I would highly recommed Post Time to anyone who is looking to replace or get a new fence.

Thank you very much. Spoke with the insured, she is quite pleased with the completed work and wanted to mention Jensyn and Jack were extremely hard workers.

The new gates look great. They definitely add a safety factor here for moving ponies around and winter access. The guys did a gret job. Thanks

A wonderful job - we are very satisfied (as is Joey!). The 2 young fellas that did the job were very personable and capable and did a great job! Thank you.

Hi James & Kevin. Its BEAUTIFUL! Jack & Quintin did a wonderful job. Everyone stops to admire it. Thanks again.