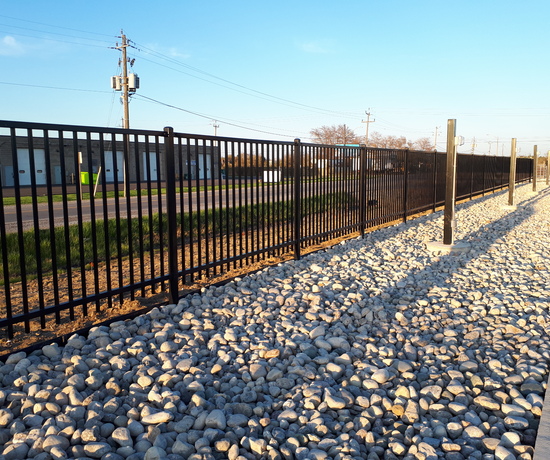 Ornamental and Chainlink
This site had many needs, from commercial fencing and gates, to bollards and enclosures. Here, the commercial black chainlink fence with weave in Mystic privacy slats works beautifully with the commercial ornamental fencing. It provides provide security without sacrificing aesthetics. The fencing offers long life and very little maintenance. The sliding gates make for strong barriers and can conveniently slide out of sight along the fence lines when opened. The bollards protect areas from accidental damage.

The fence looks amazing..we are very happy. I wanted to let you know Derek and his crew were very friendly and professional workers. I would recommend your company to friends and co workers.

We are very satisfied with the fencing job completed by Doug and his crew. The work was completed profesionally and with impeccable detail. Thank, Kevin for the expert and experienced advice in the planning. We highly recommend Post Time.

Thanks for your quick response today Kevin. I will sure tell anyone who needs fencing to give you a call as I really appreciate your service.

Hi Jason. We wanted to thank you for the great job you and your team did on our paddocks. We are very happy with the work you always do, and again another job well done.

Thanks so much for the fence. It looks great. Your guys were awesome.

Kevin, we are extremely proud of the work you've complete for us. Your team was nothing but friendly, efficient, professional and meticulous. We've had people stop in their cars to compliment the look and also ask who did the work. We've recommended you highly. The men who came were not only organized and clean, but also kind & caring toward myself & children. We are very pleased with this job.

Great job on my fence. I will recommend your services and staff. Very fast, polite & clean. Thank you.

Jason and your fencing crew, thanks for completing our fencing project. We don't often send notes to "GUYS THAT TAKE OUR MONEY!!", but what the heck. You and your staff are highly competent, polite, and made a special effort to communicate with us and be sure we were happy. I felt that all of you took personal ownership and pride in doing a great job for us.

Please pass on our appreciation to those that worked at our farm.

Hey Jason,

Thank you very much for sending your guys back. Everything is perfect and the neighbours are happy. I must compliment your guys - throughout all my contact with them, they were personable & professional. We are very happy with your services.

Thank you again for the wonderful job done, putting up the fence. The fence looks amazing.