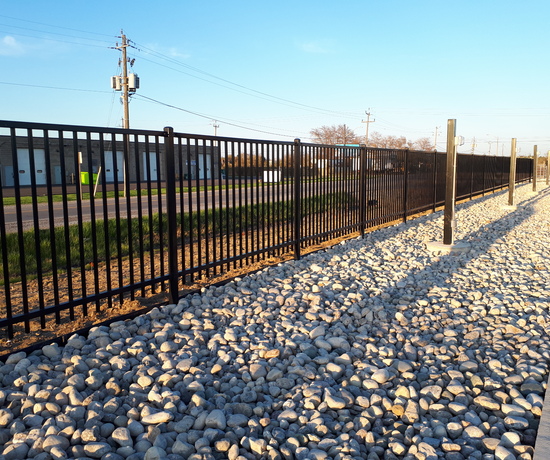 Ornamental and Chainlink
This site had many needs, from commercial fencing and gates, to bollards and enclosures. Here, the commercial black chainlink fence with weave in Mystic privacy slats works beautifully with the commercial ornamental fencing. It provides security without sacrificing aesthetics. The fencing offers long life and very little maintenance. The sliding gates make for strong barriers and can conveniently slide out of sight along the fence lines when opened. The bollards protect areas from accidental damage.

Great job on my fence. I will recommend your services and staff. Very fast, polite & clean. Thank you.

Fence looks very nice and you guys did an amazing job. My tenant and I are so happy.

It was a pleasure to work with you and your team. Thank you so much.

Thanks so much for a fantastic job. Neighbours all love it too. I hope Post Time receives more business from doing a professional job.

It looks great! Many thanks for getting this done so quickly, Bob


A sign of a good company is when they look after the customer when there is a problem. Although the fence that went up looked great, it didn't match the other existing fence. The style matched but the slope didn't. After contacting Post Time they came back and corrected everything to our satisfaction. Tyler is also a very good asset to your company as he did a great job and was a pleasure to deal with. James and Kevin I also thank you for a job well done. I will definitely recommend your company to friends and family.

Just wanted to say thank you, the guys did a great job and everything was properly cleaned up. Our neighbours are very happy with the result also. I will be sure to recommend Post Time Services to anyone.

Tyler is an awesome guy and next spring I would love you guys back to finish the side for me.... Very happy with the work done, see you in the spring!

Just wanted to let you know how impressed we are with the fence installation. The fence is gorgeous! People on the street are asking about it regularly. Your crew are quick, professional and very meticulous about their work. We will continue to recommend you to our friends and family! Thanks so much!

Hi James, I wanted to just let you know, we absolutely love the fence! It looks incredible! Derek who was lead on the project; he was really great. Every interaction was awesome; same with the other people that helped out. Super polite; and no mess anywhere. Everything was so clean; so well done. We are super happy! Just wanted to let you know how please we are just with everything. Thanks so much.

Big day at Rumar Farm. Post and wire going in on the new pear rows. Thanks to @posttimeservices for the good work.