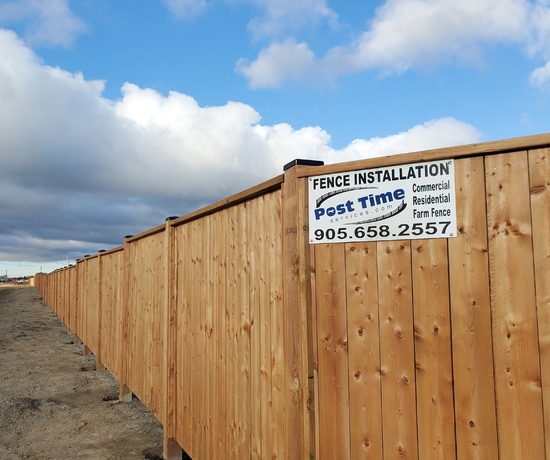 Wood Privacy Noise Barrier Fence
Our team worked on this project for a few months; it was a big one! This fence acts as a noise barrier and privacy wall. This project started at a time when lumber was hard to find, as it was selling out of stores very quickly, we could barely get our hands on any. We were able to finish this fence before the end of the year. These pictures show the progress taken to complete this noise barrier wall.

The fence looks fantastic. Your crew did a great job and my neighbour and wife commented on how approachable and easy going they were. Thanks for the great work.

We have gotten lots of comments on the fence! It looks great! Thanks again for the great service and quality workmanship!

We moved into Pelham in 2016 and needed a sizable backyard fence to contain our 97lb Pudel Pointer dog. A contractor/friend Vandenhaak Renovations recommended Post Time Services and we were NOT disappointed. They were professional, knowledgeable and offered practical solutions to our fencing needs. Installation of the farm fence and 2 gates was done in the very wet spring of 2017 without any damage to surrounding areas. The posts and fence lines are bang on straight and they operated a very clean construction site. I would highly recommend them.

Your guys did an excellent job cleaning up the work site when they left. It was something my father always stressed, clean up the work site every day even if you are not done. We are very pleased with the work and would recommend your services to our family and friends.

Thank you, Jack and Dave were great!

Thank you so much Kevin, horses are out and feeling happy. :)

The fence looks terrific, the crew worked really efficiently and did a really great job with the installation! Thank you for the excellent service, I have already referred you to my neighbor.

Thank you Post Time for my beautiful custom fencing. Kevin has taken the time to make our fencing needs work aesthetically and within our budget.

Happy customers, happy dogs!

The young men you sent were really polite, neat and did a good job! Wanted to pass that on.

We're very please with the fence and are extremely appreciative of the professionalism of your people.