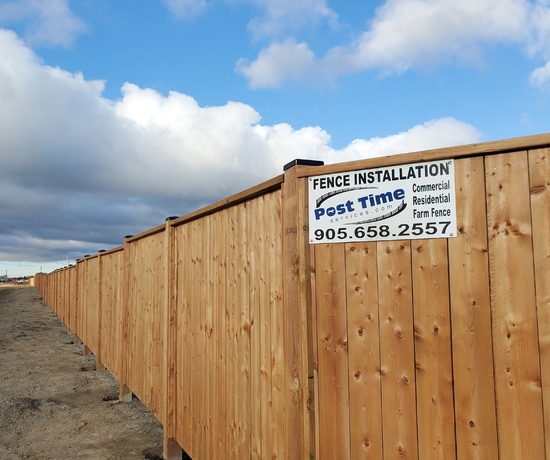 Wood Privacy Noise Barrier Fence
Our team worked on this project for a few months; it was a big one! This fence acts as a noise barrier and privacy wall. This project started at a time when lumber was hard to find, as it was selling out of stores very quickly, we could barely get our hands on any. We were able to finish this fence before the end of the year. These pictures show the progress taken to complete this noise barrier wall.

Amazing customer service! I recently moved and was in a time sensitive situation to have a fence installed for my dogs on a rural property.

James, Kevin and their team made it happen and I couldn't be happier with it..

I can't say enough good things about the experience and look forward to having more fence set up!

You know, I really appreciate this. It's nice to see that some companies out there still care about customer service and satisfaction. It's apparent you guys are no exception. Thank you!

Hey Jason,

Thank you very much for sending your guys back. Everything is perfect and the neighbours are happy. I must compliment your guys - throughout all my contact with them, they were personable & professional. We are very happy with your services.

Hello:

Just wanted to drop you a quick note to tell you all how much we appreciated the lovely gifts!!

Thank-you so much! You guys ROCK!

Your guy's were awesome. Thank you.

We are so pleased with the job and how the fence looks. Jack and his partner did a flawless job and were super courteous and are true masters of there trade. Many thanks to them and to you for making this a wonderful experience.

You did a wood fence in Ridgeway. That is the nicest wood fence job I've ever seen.

Thanks again, the fence looks terrific!

Thanks Heidi. We are very happy with the fence and I have already recommended your company to several friends and family.

Thanks James. Doug and his crew did a fantastic job - we are so pleased!