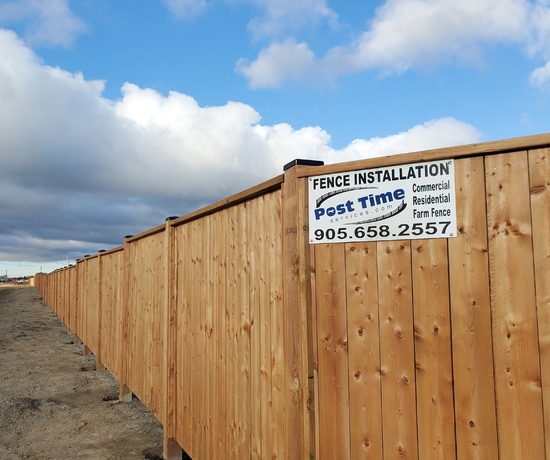 Wood Privacy Noise Barrier Fence
Our team worked on this project for a few months; it was a big one! This fence acts as a noise barrier and privacy wall. This project started at a time when lumber was hard to find, as it was selling out of stores very quickly, we could barely get our hands on any. We were able to finish this fence before the end of the year. These pictures show the progress taken to complete this noise barrier wall.

To: Kevin & Staff

Thanks so much for my new fence. Everyone also agrees that you did great.

Thanks again and have a great summer.

My compliments to you and your team. The professionalism and friendliness of your crew is absolutely tops!

A wonderful job - we are very satisfied (as is Joey!). The 2 young fellas that did the job were very personable and capable and did a great job! Thank you.

I want to thank you all once again for the awesome work that you have done on my property (past and present). I am already enjoying the benefit of the fences that you have recently installed, it has given me a new sense of security and look marvelous! My wooden fences are holding up beautifully and give me and my dogs a great deal of privacy and security. As always, your craftmanship is second to none! It is always a pleasure to do business with ALL of you at Post Time Services. I will look forward to having you come back again to install a few more posts!

Hi Kevin. I'd like to thank you for all your great information during our phone conversation and emails. I have called several other places and not once did I get a live person on the phone until I talked to you. Your customer service is excellent!!! Thanks so much

I wanted to comment on the team who installed the fencing. Very professional and were fantastic. Always respectful and just a great group of guys to interact with.

Thank you.

The crew did a great job on the fence installation.

Thanks so much for all your work. Your crew was wonderful...especially Zack; great customer service when dealing with a client. He is to be commended.

A big thanks to Jack and the Post Time crew for the amazing work you all did. Thanks again!