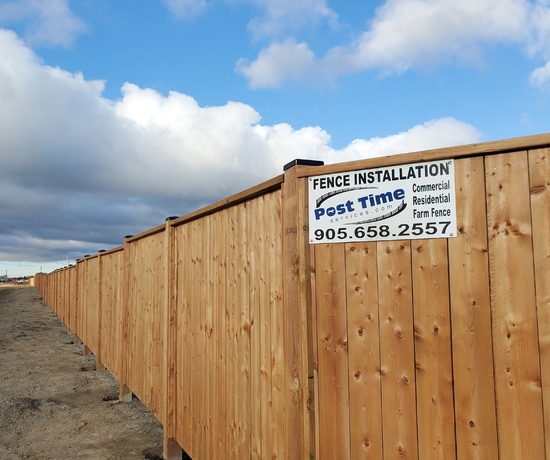 Wood Privacy Noise Barrier Fence
Our team worked on this project for a few months; it was a big one! This fence acts as a noise barrier and privacy wall. This project started at a time when lumber was hard to find, as it was selling out of stores very quickly, we could barely get our hands on any. We were able to finish this fence before the end of the year. These pictures show the progress taken to complete this noise barrier wall.

Thank you for your professionalism Hali. Wishing you a wonderful day!

The fence was repaired today and we are really pleased with the result. The guys who did the job were very polite, pleasant and efficient. It didn't take them long to do the repair, installing three new posts but keeping the lattice and cross beam. Thank you for the prompt service.

Thanks for the quick service your guys Justin and Jordan were very professional and job looks great.

Jack and his crew were quick, professional and did an outstanding job! Extremely happy with our new fence and will absolutely recommend them in the future. We did a mix of both wood and black chainlink and both look great.

The guys were great, very nice men. We were going to do the fence ourselves, then threw our hands up and decided some things are just worth paying someone else to do. We are so excited to have them out there! You have been really great at breaking the job down into parcels that I can afford and still work from your end. You guys are always my first call whenever we go to do stuff around here. As you are the only guys I recommend when anyone asks for a recommendation.

Thanks for considering to come up and help us out in such short notice. We will continue to be a huge fan of Post Time Services. You guys are a class act.

Hi Jason and crew,

I just wanted to let you know how much I love the fence. You and your team did a great job. Both fences look wonderful. What a difference it has made to my backyard. Thank you again.

Take care

We moved into Pelham in 2016 and needed a sizable backyard fence to contain our 97lb Pudel Pointer dog. A contractor/friend Vandenhaak Renovations recommended Post Time Services and we were NOT disappointed. They were professional, knowledgeable and offered practical solutions to our fencing needs. Installation of the farm fence and 2 gates was done in the very wet spring of 2017 without any damage to surrounding areas. The posts and fence lines are bang on straight and they operated a very clean construction site. I would highly recommend them.

Thank you again for the wonderful job done, putting up the fence. The fence looks amazing.

Thanks for a job done with care and the utmost professionalism!