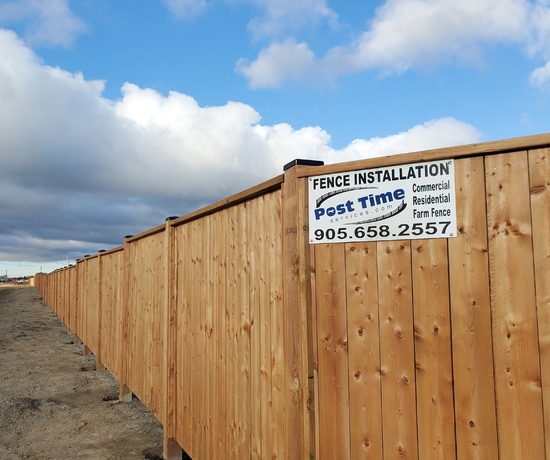 Wood Privacy Noise Barrier Fence
Our team worked on this project for a few months; it was a big one! This fence acts as a noise barrier and privacy wall. This project started at a time when lumber was hard to find, as it was selling out of stores very quickly, we could barely get our hands on any. We were able to finish this fence before the end of the year. These pictures show the progress taken to complete this noise barrier wall.

Thanks James. You and your guys did a great job all around. Very impressed.

Kevin, Jason, Doug, etc. You done good. Me proud. I sleep now. Me too tired to speak complete sentences. Thanx again.

Jason and your fencing crew, thanks for completing our fencing project. We don't often send notes to "GUYS THAT TAKE OUR MONEY!!", but what the heck. You and your staff are highly competent, polite, and made a special effort to communicate with us and be sure we were happy. I felt that all of you took personal ownership and pride in doing a great job for us.

Please pass on our appreciation to those that worked at our farm.

My new decorative fence and everything listed on your estimate, has been completed and it looks awsome. Your two installers did a great job and I will recommend your services to everyone. Thank you for the fast service.

Tyler is an awesome guy and next spring I would love you guys back to finish the side for me.... Very happy with the work done, see you in the spring!

Wow, the last section and the gates are beautiful. We are really pleased with all your work. Thanks so much.

Kevin, What a difference the appearance of the fencing makes to our property, it looks great. Post Time did an excellent job.

My pooch, Hannah thinks the fence is just perfect. She has been able to find every possible muddy spot that she could not source before. Thanks to Doug for a job well done!

Dear Kevin, Jason, Doug and the Post Time team

If you drive by Covenant Christian School these days, you'll see not one, but two flag poles on the front lawn. Thanks to you and the base/anchor you installed, we can proudly fly both the Christian flag and our Canadian flag. We've been blessed by your willingness to help our school and we send you our sincere thanks!

Kevin - love the fence - you have some great employees too!