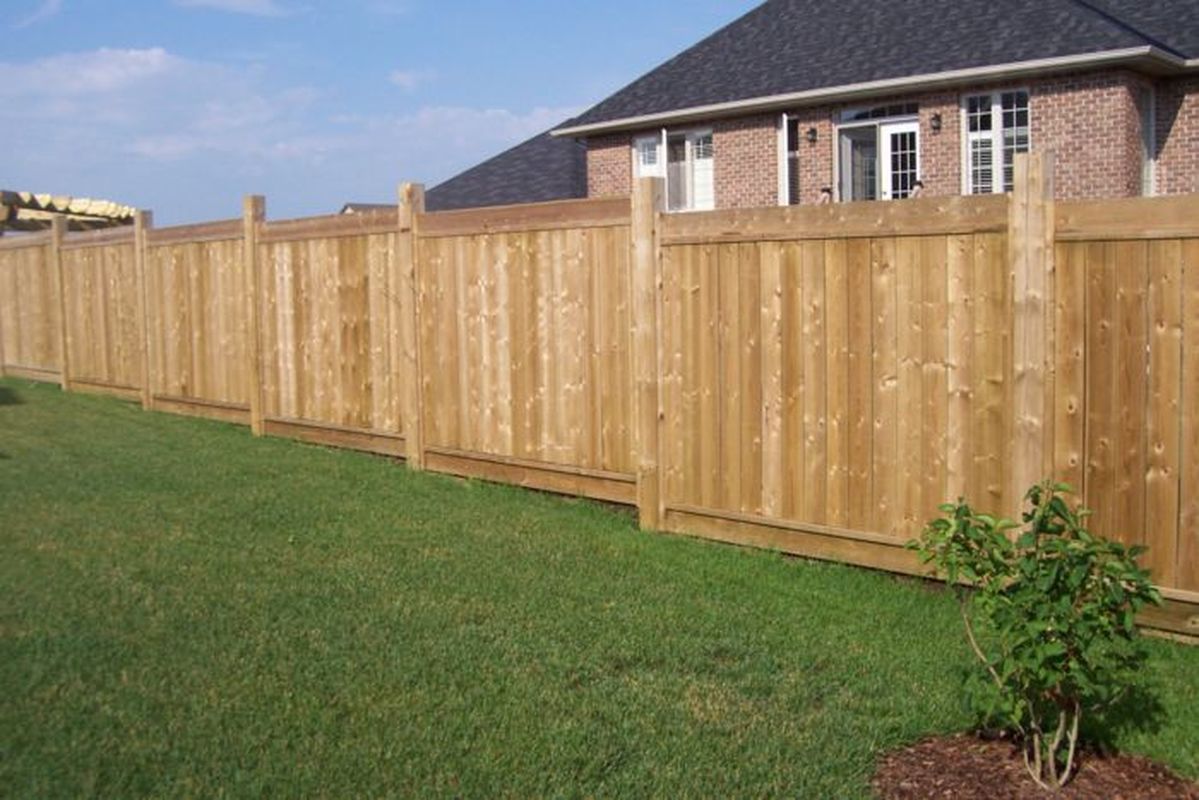 Wood Privacy Fence
Wood privacy fence is attractive, versatile and can be customized exactly to your specifications. Wood can also provide the best form of privacy and great security for years with low maintenance. Proper installation will greatly increase the life and attractiveness of the fence.
The most common style of privacy wood fence is the solid board style. It may be used for controlling noise, establishing visual barriers and marking boundaries. Fences five feet and higher are used for the containment of pets and children. Solid board fences are also used in commercial aplications, as screens or to control access to restricted areas.
Shadowbox Style fencing, also known as board on board, creates an excellent border or frame for gardens. Boards are placed on either side of the fence rail, spaced so they block vision but still allow airflow through the fence.
Lattice can be used as a solid-board fence topper with 12" to 24" showing above the boards. It can also be used as a full-lattice fence panel to screen an area, while providing limited vision through the fence. The open design of the lattice system is excellent at controlling wind flow by breaking gusts into gentle breezes.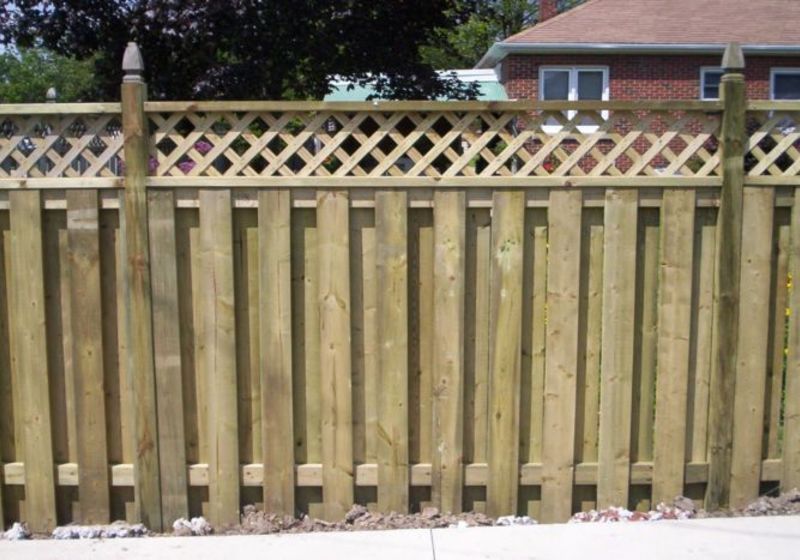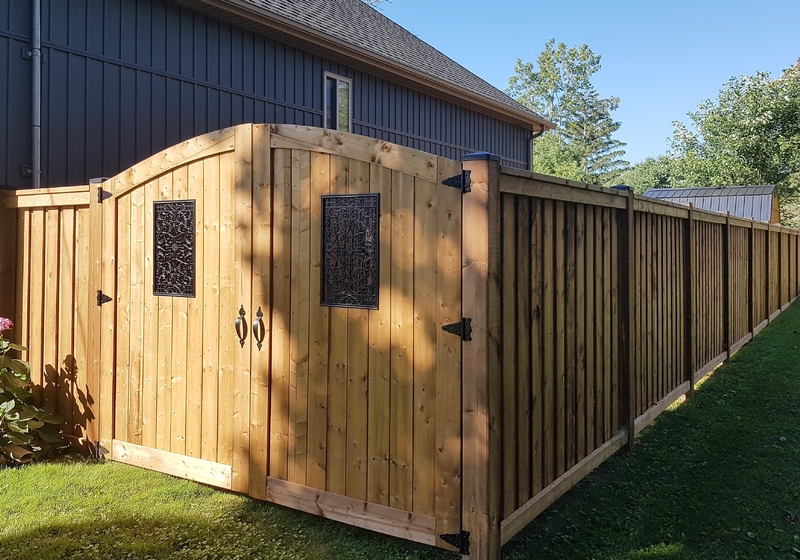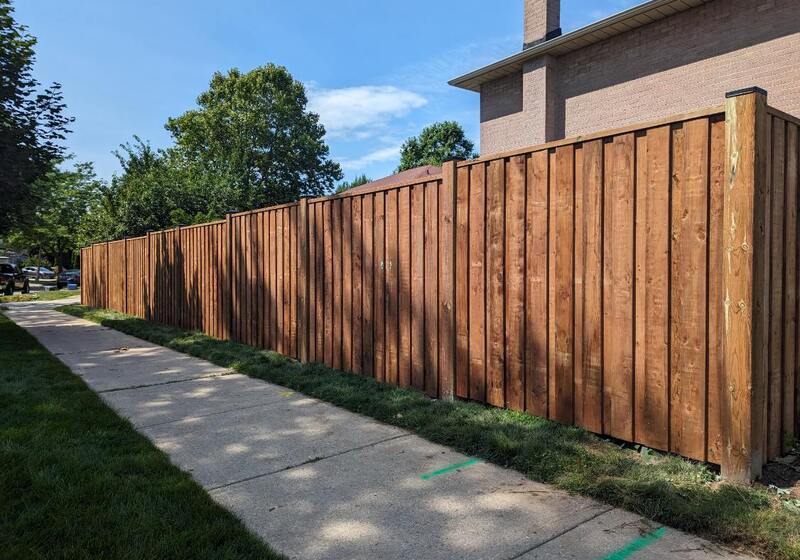 What a nice job you all did. Thanks

A couple of months ago I purchased a home in Smithville, Ontario. Having a high energy dog I needed a fence built as quickly as possible after I closed on my new home. Not having any prior knowledge of the various contractors in the area, I went to a local lumber supplier where the staff recommended that I try Post Time Services in Fenwick, Ontario. They were available to start the job the day after I moved in. They showed up as scheduled and after a couple of brief discussions as to exactly what I wanted in the way of a gate they immediately started doing the measuring and augering the holes. A few days later my fence was finished and I'm immensely pleased with their work. They used 6 x 6 10 foot posts sunk a full 4 feet into concrete so I suspect nothing short of a tornado will bring my fence down! The quality of their workmanship was superb!

Their crew was friendly, courteous and extremely professional. Quite frankly they worked their butts off getting my fence up. Understanding that I needed an enclosed space to let my dog run free, they even supplied a temporary frost fence section as a gate while they were working on the decorative lattice.

To anyone wanting fence or deck work done, I would recommend Post Time Services without reservation.

Your workers did a beautiful job!

Just wanted to also tell you that your workers have demonstrated very professional and very polite manners.

You keeping me in the loop made me feel very comfortable with this project :)

I will definitely recommend Post Time!

I just want to say there were some issues with the neighbour but your guys had very good patience and handled it very well. I was very happy with them.

The young men you sent were really polite, neat and did a good job! Wanted to pass that on.

Thanks for a job well done. When I was working outside on the yard I had compliments on the fence.

Fence looks very nice and you guys did an amazing job. My tenant and I are so happy.

It was a pleasure to work with you and your team. Thank you so much.

Hi Kevin. Your worker is here this morning and doing a great job! I wanted to let you know how professional he is. Sometimes you don't get to hear good comments about employees so I wanted to drop you a line about him. I will definitely share word of mouth about your business with my horse club buddies! Thanks!

Your guy's were awesome. Thank you.