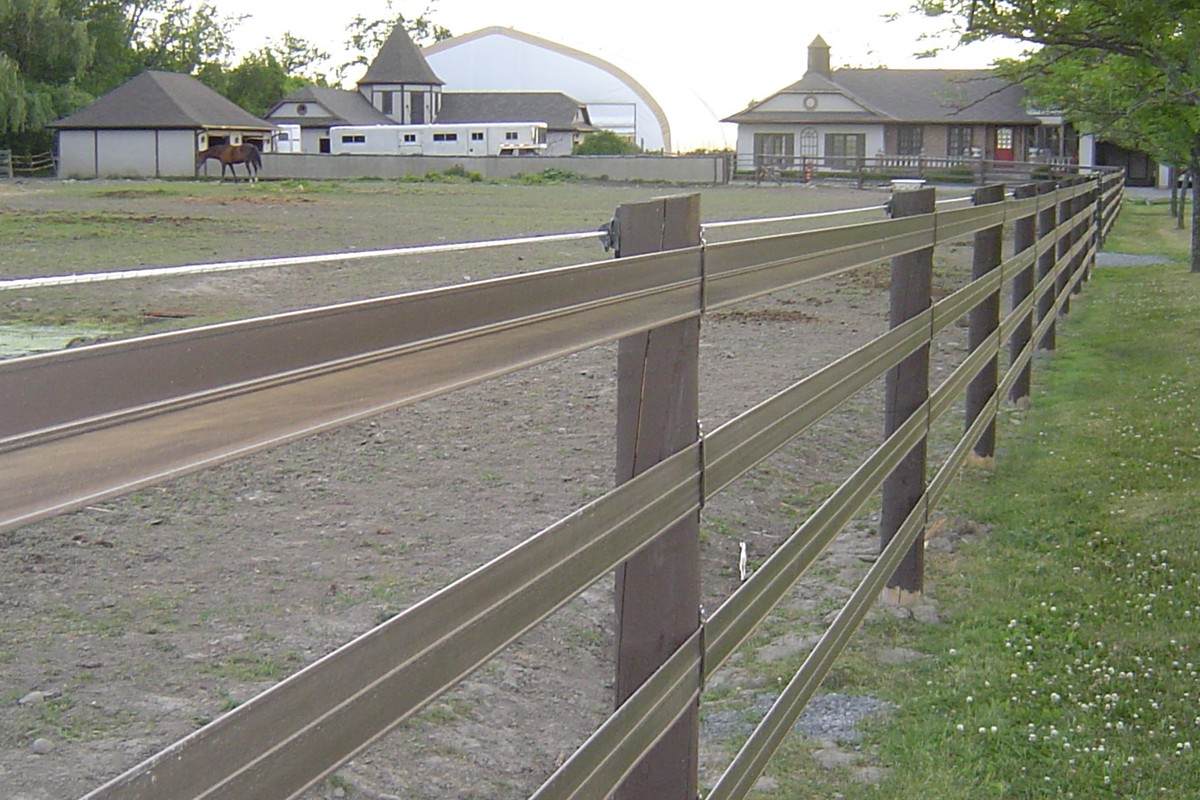 Flex Rail Fence
Flex Rail fencing is designed specifically for horses and is made from high grade plastic with three 12.5-gauge high tensile wires for extra strength. It is a safer alternative to paige wire or oak board. Flex fence combines high durability and great looks in a unique fencing solution. The fence looks like board fence and comes in three colors, white, black, and brown, to match most farm colour schemes.
The unique design allows the flex rails to flex and slide upon impact. Flex Fence is UV resistant and capable of withstanding temperatures well below 40C making it perfect for all climates. The fence is low maintenance as it won't splinter, warp or fade, and no paint is required. Proper installation will greatly increase the life span and attractiveness of the fence.
Flex fence is also great to add as a top rail to other fencing solutions such as paige wire or electric fence, to make a combination fence.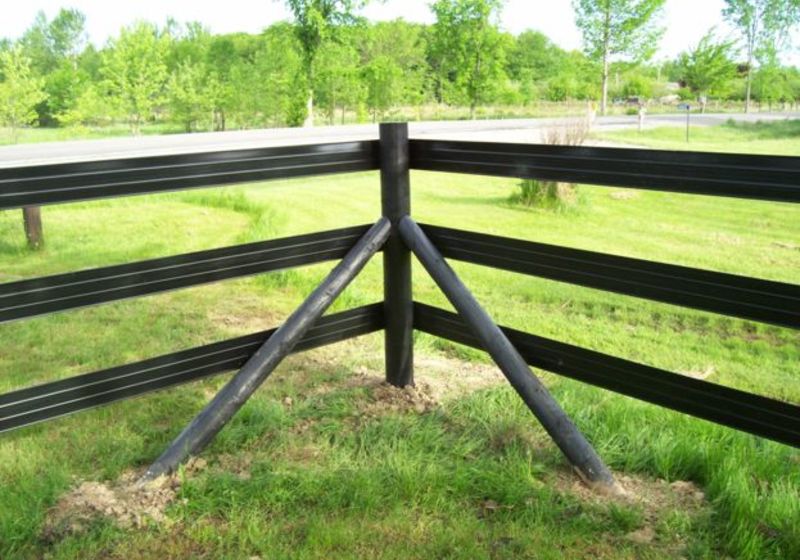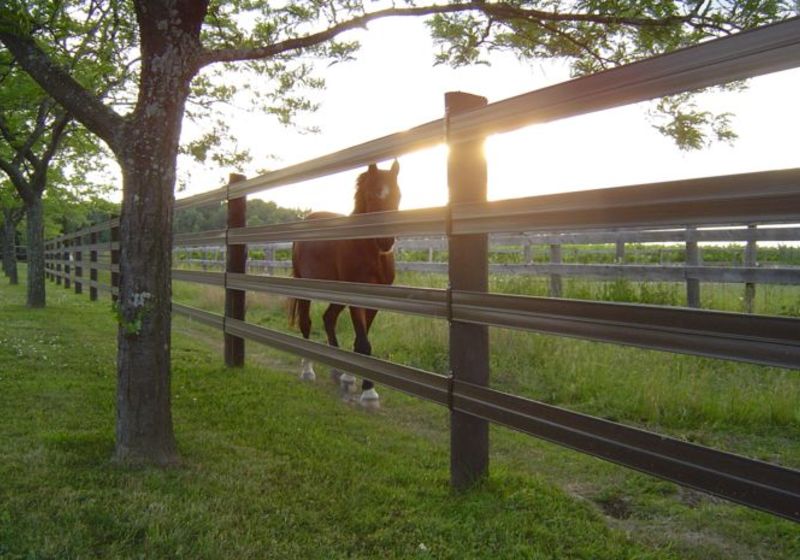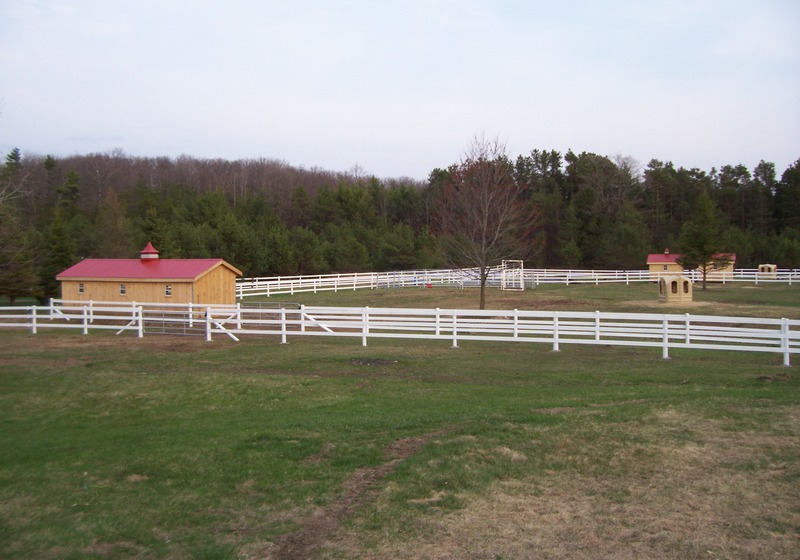 Thank you Card

Staff of Post Time,

Thank you a thousand times for the amazing fence you built us. We appreciate your professionalism and respect that you showed during the week you were here. Keep up the great work! Have already given your business as a referral!

I wanted to comment on the team who installed the fencing. Very professional and were fantastic. Always respectful and just a great group of guys to interact with.

Thank you.

Kevin, thank you very much for replacing the post. You have a couple of great guys working for you.

I want to thank you all once again for the awesome work that you have done on my property (past and present). I am already enjoying the benefit of the fences that you have recently installed, it has given me a new sense of security and look marvelous! My wooden fences are holding up beautifully and give me and my dogs a great deal of privacy and security. As always, your craftmanship is second to none! It is always a pleasure to do business with ALL of you at Post Time Services. I will look forward to having you come back again to install a few more posts!

Hi Kevin. I'd like to thank you for all your great information during our phone conversation and emails. I have called several other places and not once did I get a live person on the phone until I talked to you. Your customer service is excellent!!! Thanks so much

A sign of a good company is when they look after the customer when there is a problem. Although the fence that went up looked great, it didn't match the other existing fence. The style matched but the slope didn't. After contacting Post Time they came back and corrected everything to our satisfaction. Tyler is also a very good asset to your company as he did a great job and was a pleasure to deal with. James and Kevin I also thank you for a job well done. I will definitely recommend your company to friends and family.

Kevin, we would like to thank you for having the best team possible to design & construct our fence. Our initial contact with your company was through James, he was very professional & personable. We were fortunate to have the team led by Jack, whom we must say is a natural born teacher/leader. His ability to guide and teach the younger men to work to his high standard was done with respect & patience. Jack, Tyler Derrick & Donny were great to have around our home daily. They are all very hard workers, pleasant with great attitudes... and great sense of humour. While constructing our fence the guys encountered a few combative neighbours, they handled our neighbours with smiles and polite conversation. Now our fence: It's fabulous! The workmanship is of the highest quality. The fact that we have dogs was taken into account & the fence was made flush to the ground so the dogs can't get underneath. Our property isn't flat, but instead large with a stream that runs through it, again with our dogs in mind a screen was added for their safety. A custom gate was made for us like nothing we have ever seen before. Overall our experience with Post Time was 10/10 and we will definitely be using them for our deck, also we will recommend Post Time to everyone who admires our fence.

Post Time has been installing my fences for several years now, and I have always been happy - courteous, hard-working and well done! Plus, when I have one of those random problems and I don't know who to call, Post Time has always had a solution. Thank you Post Time!

Just wanted to let you know how impressed we are with the fence installation. The fence is gorgeous! People on the street are asking about it regularly. Your crew are quick, professional and very meticulous about their work. We will continue to recommend you to our friends and family! Thanks so much!

The two guys that day were phenomenal! They worked hard in the heat and did an excellent job on the posts.