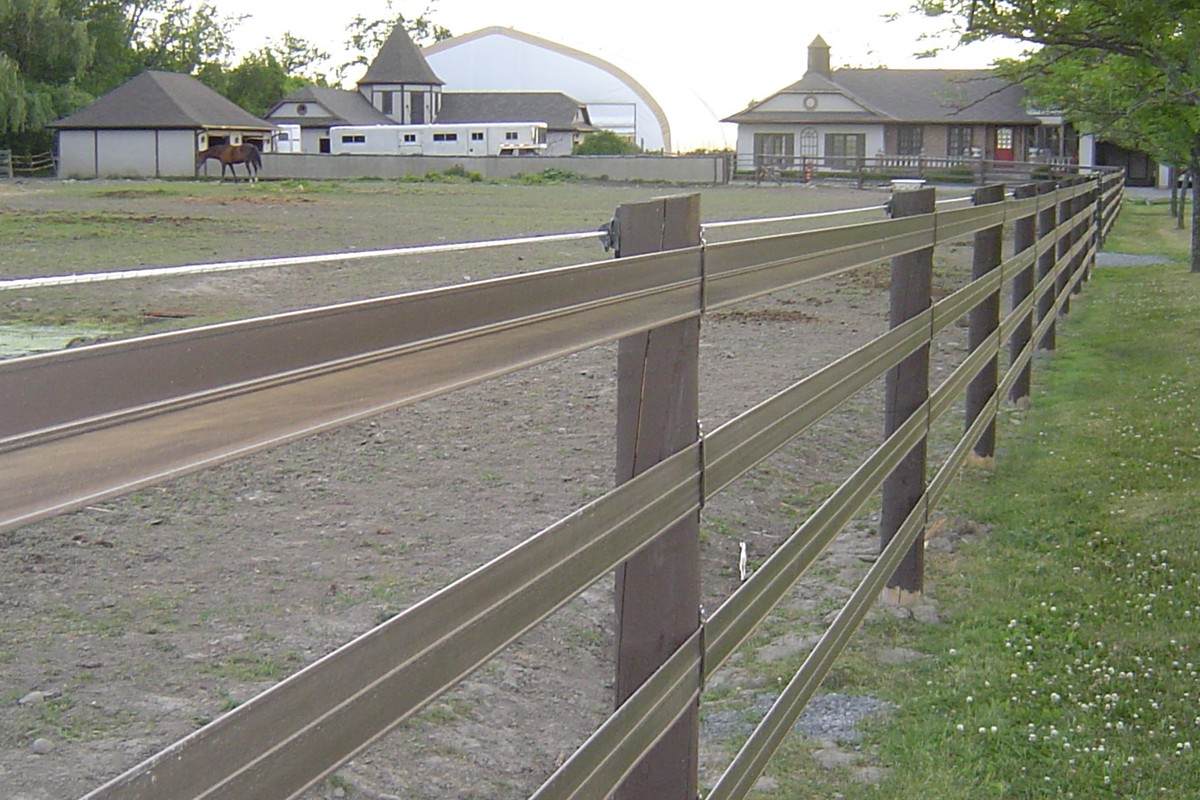 Flex Rail Fence
Flex Rail fencing is designed specifically for horses and is made from high grade plastic with three 12.5-gauge high tensile wires for extra strength. It is a safer alternative to paige wire or oak board. Flex fence combines high durability and great looks in a unique fencing solution. The fence looks like board fence and comes in three colors, white, black, and brown, to match most farm colour schemes.
The unique design allows the flex rails to flex and slide upon impact. Flex Fence is UV resistant and capable of withstanding temperatures well below 40C making it perfect for all climates. The fence is low maintenance as it won't splinter, warp or fade, and no paint is required. Proper installation will greatly increase the life span and attractiveness of the fence.
Flex fence is also great to add as a top rail to other fencing solutions such as paige wire or electric fence, to make a combination fence.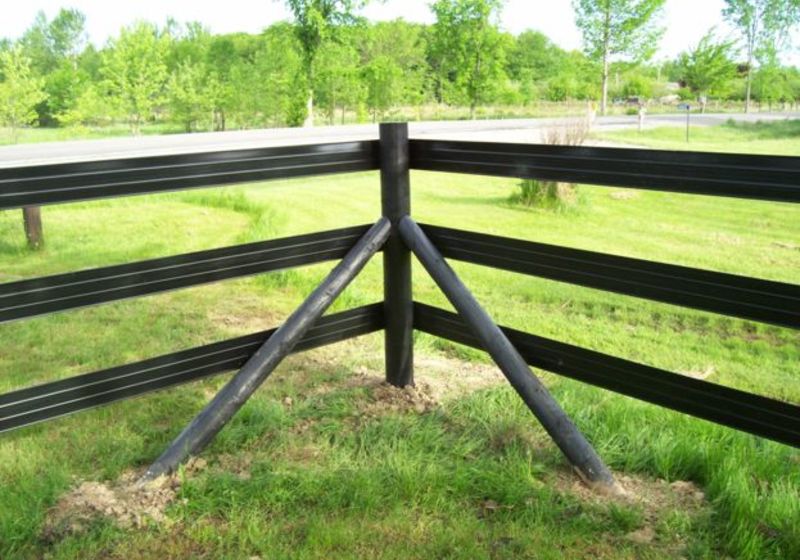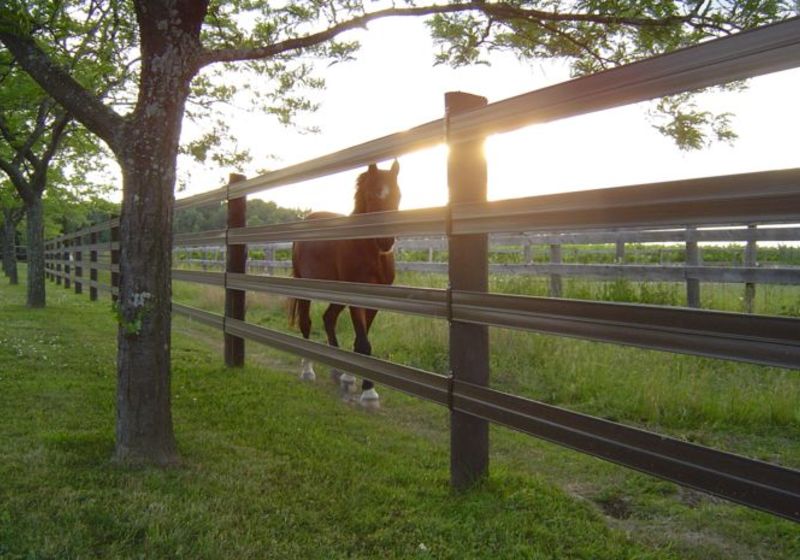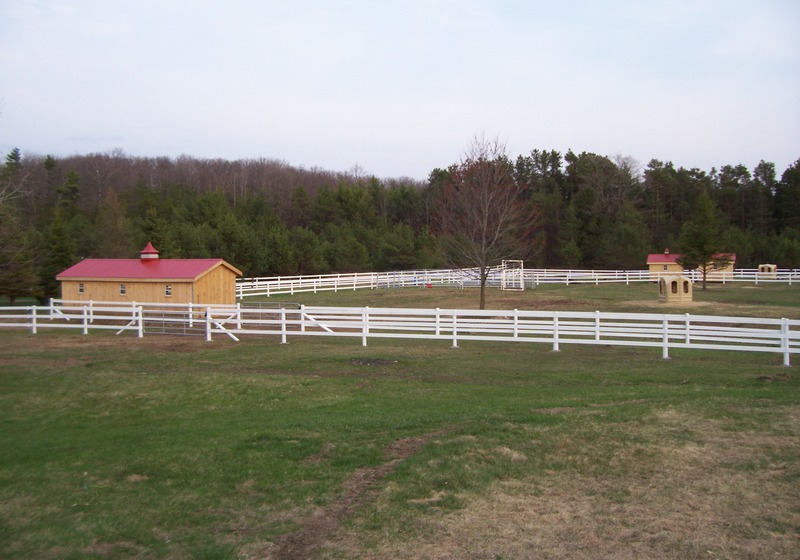 Doug did a great job!!!!!! You were very courteous and a pleasure to deal with. I am very happy with the job. Thanks

It looks great! Many thanks for getting this done so quickly, Bob


Thanks again for the job fixing the fence! They did a good job!

Kevin, I am remiss in not thanking you and your team for a great product and a fine organization to work with.

Great job on the fence. Thanks again.

I just wanted to apologize for not going out to see the boys yesterday. I didn't even get to see the horse barn until this morning. I want to tell you it looks absolutely BEAUTIFUL!!!! I'm thinking of taking one of the stalls for myself. I have called the building the "Tajmastall"! I hope the boys were not too upset but I knew they didn't need a babysitter or supervision of any kind. I was amazed at the amount of work they got done. WOW!!! Thanks for a beautiful job!

Their installers are perfectionsists, they put a beautiful chain link fence around our pool, and installed a side driveway for our heavy vehicles. Highly recommended company.

We are very satisfied with the fencing job completed by Doug and his crew. The work was completed profesionally and with impeccable detail. Thank, Kevin for the expert and experienced advice in the planning. We highly recommend Post Time.

A couple of months ago I purchased a home in Smithville, Ontario. Having a high energy dog I needed a fence built as quickly as possible after I closed on my new home. Not having any prior knowledge of the various contractors in the area, I went to a local lumber supplier where the staff recommended that I try Post Time Services in Fenwick, Ontario. They were available to start the job the day after I moved in. They showed up as scheduled and after a couple of brief discussions as to exactly what I wanted in the way of a gate they immediately started doing the measuring and augering the holes. A few days later my fence was finished and I'm immensely pleased with their work. They used 6 x 6 10 foot posts sunk a full 4 feet into concrete so I suspect nothing short of a tornado will bring my fence down! The quality of their workmanship was superb!

Their crew was friendly, courteous and extremely professional. Quite frankly they worked their butts off getting my fence up. Understanding that I needed an enclosed space to let my dog run free, they even supplied a temporary frost fence section as a gate while they were working on the decorative lattice.

To anyone wanting fence or deck work done, I would recommend Post Time Services without reservation.

Wow, the last section and the gates are beautiful. We are really pleased with all your work. Thanks so much.